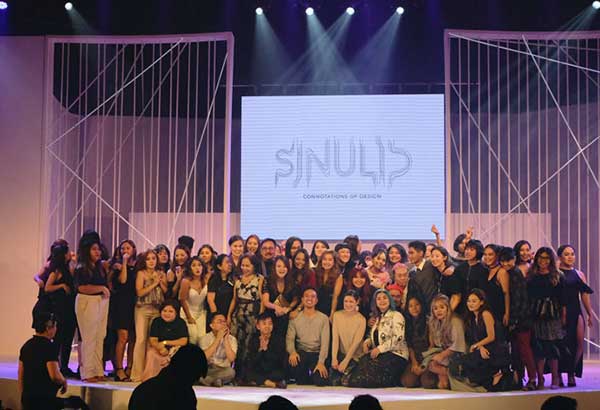 MANILA, Philippines – There's a big misconception that fashion school is just about having fun, doodling dresses, and sprinkling sequins on every piece of fabric you can lay your hands on. While that does happen sometimes, it's pretty much crying, being tired and chasing deadlines. There's no escape from math, either (how sad). There is literal blood, sweat and tears in the process of going through fashion school, but despite all the grueling work, the feeling at the end when you present your final collection is like no other.
Last July 27, the graduating batch of De La Salle-College of Saint Benilde's Fashion Design and Merchandising program presented their culminating show and exhibit at SM Aura, Taguig. Titled "Sinulid: The Connotations of Design," the batch of students was split into three groups — which began with the previous year's batch — merchandisers, stylists and designers. This format is a change from prior shows, in which Benilde only presented one fashion event for the entire batch. It is an effort to address the changing landscape of the fashion industry, and aims to prepare its students for the different positions available within the industry. Merchandising students are tasked with creating a brand, replete with a collection and lookbook that's ready for business; styling students are challenged with creating an editorial and are in charge of art direction; and design students are asked to create a fashion-forward three-piece collection that will walk the runway.
It was a fashion-filled event, to say the least: the ground floor of SM Aura served as an exhibition space for the merchandising and styling students, each with a booth that showcased their brands and styled mannequins. The exhibit opened a week prior to the show, which was then held at the Samsung Hall. It's crazy to think that this was all a student-led production, where they are split into different committees that are in charge of the collaterals, sponsors, publicity, venue, marketing and everything else that comes with mounting a fashion show. Blood, sweat and tears, I tell you.
Lifestyle Feature ( Article MRec ), pagematch: 1, sectionmatch:
It's pretty safe to assume that the students' work from Benilde gets better year after year, and the graduating batch of 2017 is a true testament to that. Tracey Tabora, the exhibit's adviser, tells me that the students were more cohesive and overall more supportive of each other, whether they were part of the merchandisers, stylists or designers. No catty backstabbing or slashing of garments after hours here.
This camaraderie was evident in the students' work. While there were the usual wearable casual clothes and glittery gowns, there were more designers willing to experiment with their mediums, pushing the boundaries of fashion and concept. Some highlights were Ha.Mu (designer duo Abraham Guardian and Mamuro Oki) with a collection that was a flurry of different fabrics and textures representing parallel universes; Kelvin Morales, who presented a collection with voluminous shoulders reminiscent of Thom Browne from 2012 with a touch of Rei Kawakubo; and Miuccia Olivares, with an all-black collection that brought together Kali warriors' culture with modern sensibilities. These three designers will join seven other designers in the upcoming season of Manila Fashion Fest, a new twist to the graduation show.
When the students took the stage for their bow after the show, there was a certain glimmer in their eyes that showed the promise of an exciting future for the local fashion industry. It wasn't just camaraderie, but their passion to create something new that was so evident in their smiles and their work. And while not all will go on to become name designers, one thing's for certain: these students have brought us something to look forward to.
Source: Google News